WintherStormer - Analog synth reparasjonstreff 2010
WintherStormer and NoTAM invited to a synth repair meeting om Saturday June 12th, 2010.
WintherStormer og NoTAM inviterte til det andre analog synth reparasjonstreffet lørdag 12. juni 2010. Treffet var en oppfølging av de analoge synth-treffene fordi mange ønsket å møtes for kun å få hjelp til å sette synthen sin i spillbar stand igjen. Rundt 15-20 personer var innom i kortere eller lengre periode. Det ble loddet, justert, diskutert og skrudd, og mange gikk hjem med forbedrede instrumenter, eller informasjon om hva som måtte gjøes for å få en fin synth igjen. Noen ble også skuffet over at instrumentene trengte en omfattende service og ikke kunne fixes med en gang, men slik er det med anloge synthesizere: noen ganger er det omfattende arbeid (restaurering) som må til.
Here is a list of some of the gear we went through that day:
Roland Juno-106
Philicordia organ
Korg PolySix
FBT Synther-2000
Moog Prodigy
Moog minimoog
Maplin ETI 5600s
Roland VP-330 vocoder Plus Mk. I
Korg MonoPoly
Korg MS-20
ARP Odyssey
Photos taken by Marius Ystad: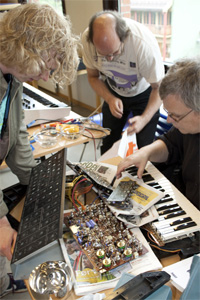 Korg MS-20 taken to pieces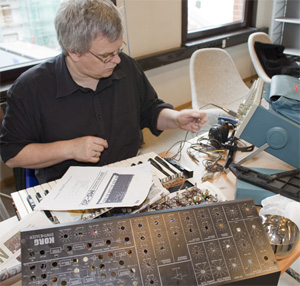 Erik working on the MS-20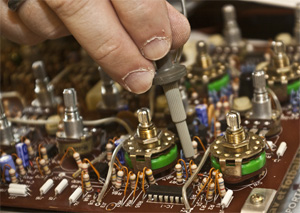 Close-up of the MS-20 internals during probing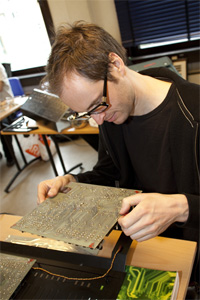 Asbjørn inspecting the PCB of the ARP Odyssey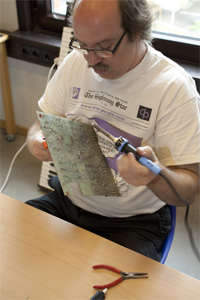 Terje de-soldering ARP Odyssey sliders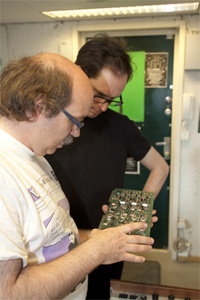 Asbjørn and Terje inspecting a minimoog VCO card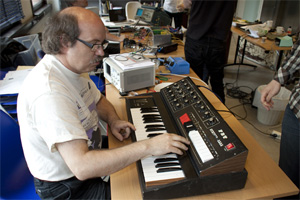 Terje testing the very rare F.B.T. Synther-2000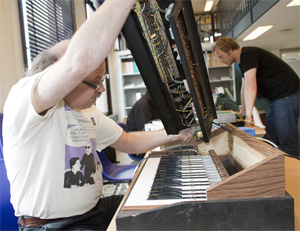 Terje checking out the inside of the FBT Synther-2000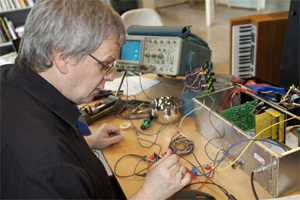 Erik testing frac-rack modules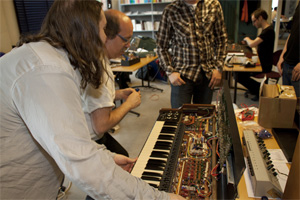 Lars and Terje inspecting the Roland VP-300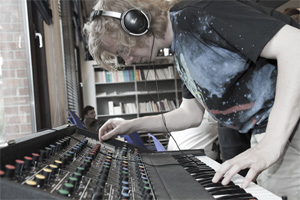 Nice view of the ETI 5600