WintherStormer - Analog synth reparasjonstreff 2009
WintherStormer and NoTAM invited to an analog synth repair meeting om June 20th, 2009.
WintherStormer. og NoTAM inviterte til det første analog synth reparasjonstreffet lørdag 20. juni 2009. Treffet var en oppfølging av det andre norske analog synth og synth-DIY treffet fordi mange ønsket å møtes for kun å få hjelp til å sette synthen sin i spillbar stand igjen. Rundt 15 personer var innom i kortere eller lengre periode. Det ble loddet, justert, diskutert og skrudd, og mange gikk hjem med forbedrede instrumenter, eller informasjon om hva som måtte gjøes for å få en fin synth igjen.
Her er noen bilder fra dagen / Some photos from the day:
Bilder av / Photos by Marius Ystad: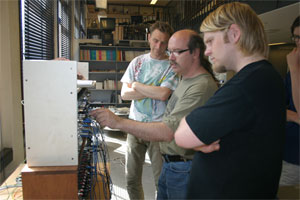 Cato, Terje og Erik foran Aries modular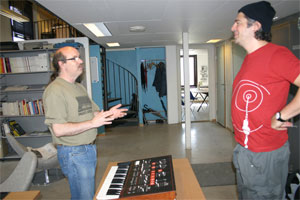 Terje and Leon over an ARP Odyssey Mk. III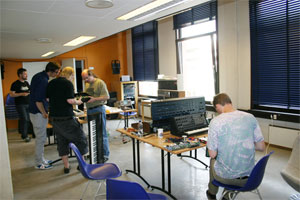 Synth, rom og mennesker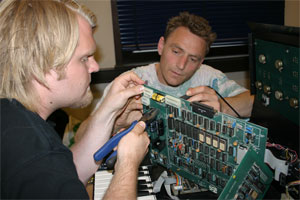 Erik og Cato i dyp konsentrasjon i arbeid på OB-8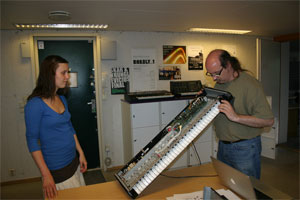 Susanne venter i spenning mens Terje undersøker hennes Roland D-10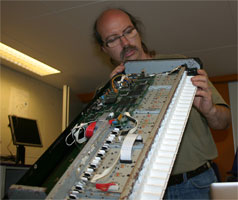 Terje undersøker hva som er feil
Bilder av / Photos by Terje Winther: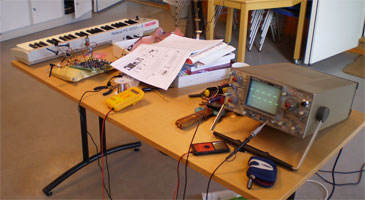 Arbeidsbord / Working table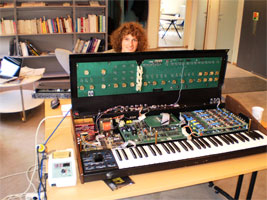 Oberheim OB-8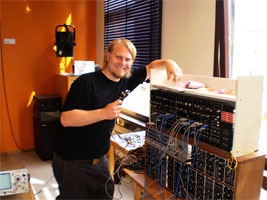 Erik N. Strutz og Aries modular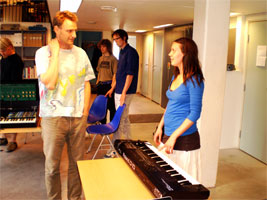 Susanne og Cato over en Roland D-10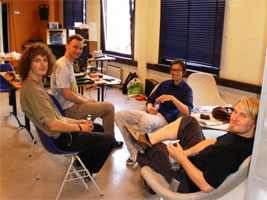 Litt pause og synth-prat ble det også tid til