WintherStormer - concert 2008/07/08
WintherStormer played an outdoor night concert in Tvedestrand, Norway as part of the "Kystkulturfestivalen" (Costal Cultural Festival) on July 8th, 2008. The narrow "Cat Valley" (Kattedalen) was turned into a nice wooden venue just for this concert.
The festival had tried to stage an event like this before, but had always been stopped by bad weather. This time everything was perfect: nice weather, lots of people, and a dark and mysterious valley filled with bizarre electronics and exotic music. All 4 members of WintherStormer performed, including Erik Stormer and Terje Winther on synths and sequencers; Geir Marthin Helland on drums and percussion, and Atle Pakusch Gundersen on electronic guitar and electronics.
Several video clips from this concert is available at YouTube. These videos are recorded and edited by Bård Eirik Winther.
Photos copyright Mette Urdahl: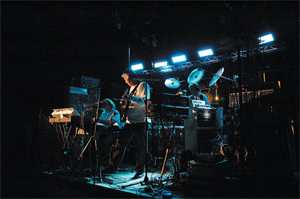 (click photo for large version)