WintherStormer - concert 2008/04/26
WintherStormer performed a concert in the SubTacto concert series on April 26th, 2008. This was also the release concert for the band´s new "Electric Fairytales" CD. The release-concert was held in the venue "Amatøren" in Oslo, Norway.
During the nearly 3 hour long concert all 4 members of WintherStormer performed extended versions of all tracks from the "
Electric Fairytales
" CD, which got it´s official release on this concert. In addition «Monochrome» from the "
Woodwork
" CD was performed. The concert was held at the "Amatøren" venue at Sogn Studentby in Oslo. The very full packed stage was blooming with analog modular synthesizers, theremin, cable tree holders, lots of wood and metal percussion of all sorts, joystick controller, guitar, vocoders, electronics and delicate liquid lightning.
We originally planned to capture this concert as a two-camera video job, but that unfortunately didn´t happen. We did record the concert and took some photos, and even did an interview with the newspaper "Tvedestrandsposten". By kind permission we publish some photos from the newspaper here.
WintherStormer (from the left): Atle Pakusch Gundersen, Terje Winther, Geir Marthin Helland and Erik Stormer (seated):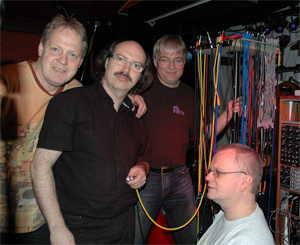 Terje Winther during soundcheck: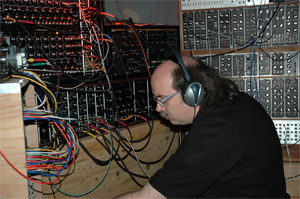 Photos taken by Mark Francombe: